«TRITON» MULTICHANNEL MAGNETIC FIELD MEASUREMENT SYSTEM
Up to 500 3-axial measurements per second with 0.1 nT resolution on each channel
Data acquisition unit of magnetic field measurement system
Application:
- Automated real-time survey and magnetic field mapping
of geomagnetic anomalies on the land and in the sea;
- Searching and tracing the underground communications;
magnetic field inverse problem solution;
- Steel pipelines stressed state remote magnetic inspection.
Key features:
- High resolution 0.1 nT in wide ±70000,0 nT range;
- Up to 12x 3-axial sensors can be used simultaneously;
- Anyone topology of magnetic field sensor can be chosen
from single fluxgate element to gradiometer or 3-axial topology;
- Making possible to provide magnetic measurements down to 40 meters under water;
- Real-time color map, linear graph and digital indication of measurements;
- USB/RS-232 interface to connect external GPS/RTK receiver;
- Connecting to the personal computer the system working as
standard USB flash disk, since this no special driver required;
- Surfer-compatible measurements data format.
System architecture: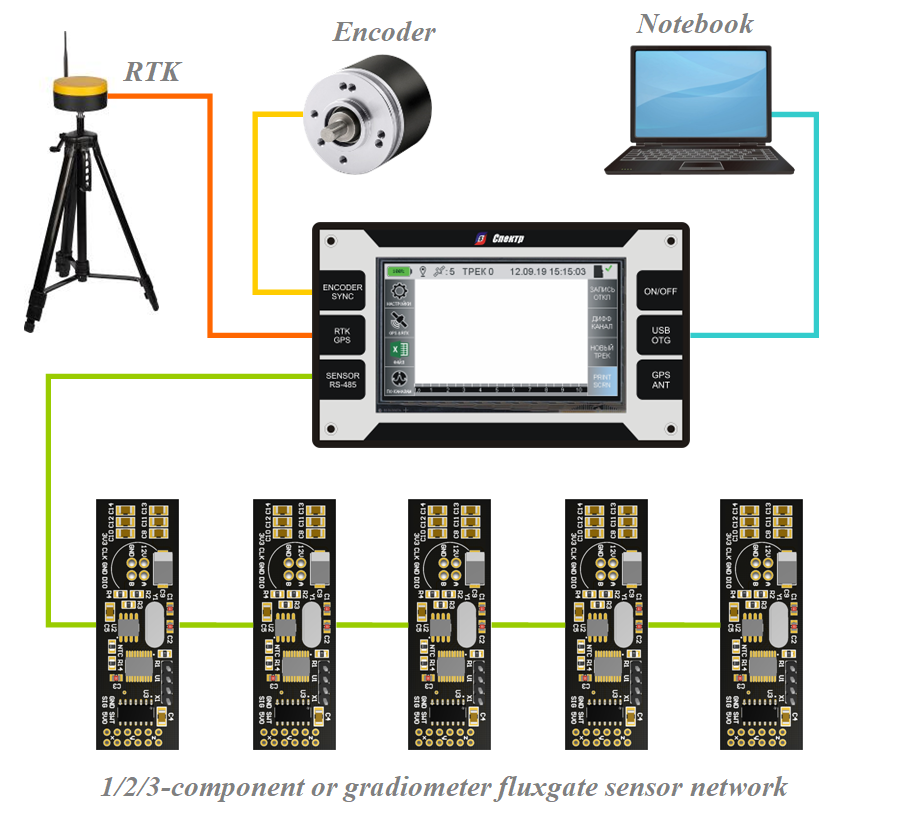 Price is composed from measurement system configuration:
1. Price of basic kit composed from 1 magnetic field sensor with acquisition unit,
(with GPS-receiver built-in), 2 accumulators, charger, USB-to-PC data cable
and sensor cable with up to 8 meter length is 4790$.
2. Each additional meter of sensor cable add to the price of 5$.
3. Acquisition unit can maintain up to 12 gradiometer and 3-axis sensors simultaneously.
3.1. Each additional gradiometer magnetic field sensor adds in the price of 550$.
3.2. Each additional 3-axis magnetic field sensor adds in the price of 680$.
4. Odometer on the base of incremental encoder adds in the price of 250$.
5. RTK system consists of receiver, base station with folding tripod
and set of accumulators with charger adds in the price of 2300$.
Magnetic field measurement system

Magnetic field sensitive element:
fluxgate, straight
Magnetic field sensor topologies provided by default:
1/2/3-axial
gradiometer
Amount of 1/2/3-axial or gradiometer magnetic field
sensor maintained by system simultaneously:
1 – 12
Magnetic field components measurement range, nT:
±70000,0
Magnetic field gradient components measurement range, nT/m:
±140000,0
Magnetic field sensing resolution, nT:
0,1
Measurement data rate setting
3-axis measures per second:
1 – 500
Maximum length of sensor cable, m
(by preliminary agreement with the customer):
2000

Coordinates measurement system

Measurement synchronization sources:
built-in timer
external odometer
Coordinates measurement units:
– built-in GPS/GLONASS receiver
– odometer on the base of incremental encoder
– RTK system consists of receiver and base station


standard
option
option
RTK navigation systems supported:
GPS and GLONASS
RTK receiver connection channel
(including third party manufacturers):
USB/RS-232
NMEA 0183 protocol
Typical GPS/GLONASS coordinates measurement error, m:
– built-in receiver
– RTK


±10
±0,1

Storing and transferring data measured

Capacity of memory to save data measured:
8 GB
Personal computer communication:
USB-port

Mechanical specs and power supply

Data acquisition unit dimensions
(length × width × height, mm):
151×90×54
Magnetic field sensors dimensions (length × width × height, mm):
– gradiometer
– 3-axis

1020×60×30
120×100×90
Magnetic field sensors water resistance, m:
40
RTK system components dimensions
(length × width × height, mm):
– receiver
– base station (without tripod)
– tripod for RTK base station
– tripod when folded


120×65×55
170×85×55
1450×600×800
550×100×100
Data acquisition unit weight, g:
540
Magnetic field sensors weight, g:
– gradiometer
– 3-axis

420
300
RTK system components weight, g:
– receiver
– base station (without tripod)
– tripod for RTK base station

230
1300
1200
Power supply source:
lithium
accumulator
battery 3S2P
Supply current from fully-charged accumulator, mA:
800
Working temperature range, °С:
–20…+70

«Triton» multichannel magnetic field measurement system. User manual

Size of file: 37,2 MB
«SurferCvt» utility application

Size of file: 0,8 MB
Connecting to the personal computer the system working as
simple USB flash disk, since this no special driver required